OIC Biographies
Christopher Larkin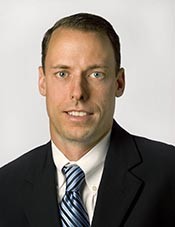 Christopher Larkin, Managing Director, Head of Brokerage Product, is responsible for the strategic direction and growth of retail trading for equities, options, and futures at E*TRADE. Leveraging more than 25 years of experience delivering retail and institutional brokerage services, Mr. Larkin oversees the E*TRADE trading team to deliver innovative and relevant products, tools, and services to the Company's self-directed retail trading customer base.
Mr. Larkin has been instrumental in enhancing the customer experience, expanding capabilities on the Power E*TRADE platform and building the company's options offering from the ground up, resulting in increasing options as a percentage of daily average revenue to almost 30 percent in 2017. Mr. Larkin also contributed to the introduction of innovative new product and service offerings including E*TRADE Mobile, E*TRADE Pro, ETRADE's Global Trading Platform, and the E*TRADE Complete™ Investment Account.
Prior to his tenure at E*TRADE, Mr. Larkin served as Managing Director of Corporate Services and Fixed Income Sales at TD Ameritrade. There he led the TD Bank relationship and referral program and delivered designated brokerage and stock plan services to more than 1,500 corporate clients. Mr. Larkin also served as the Vice President at Datek Online, where he helped grow their online brokerage business and held institutional sales and trading positions with ING Barings and Bloomberg LP.
Mr. Larkin holds series 3, 7, 8, 24, and 63 licenses, and is a member of the SIFMA Options Committee. He also serves on the Customer Advisory Board for all major option exchanges. He earned a bachelor's degree in liberal arts from Villanova University.