OIC Biographies
John Black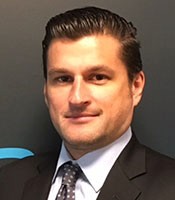 John Black serves as Nasdaq's Head of Index Options Product Development, leading the team responsible for enhancing and managing Nasdaq's index options suite, including Nasdaq 100® Index Options (NDX and NQX).
Prior to joining Nasdaq, John spent much of his career serving the many facets of the inter-dealer broker industry. In 2005, he began his career on Tradition's U.S. single stock equity derivatives desk. During John's time at Tradition, and later BGC Partners, he was involved in equity derivative sales and execution trading. He also served as a desk liaison to the compliance, technology and billing teams, as well as to all U.S. options exchanges. He was instrumental in implementing operational standards and streamlining execution processes.
John holds a B.S. in Finance from Fairfield University.